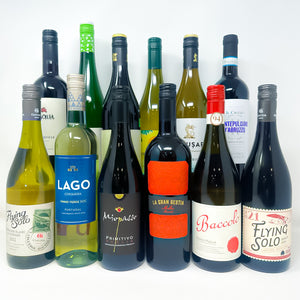 What's in the Mid Way Box?
Explore the delights of the Mid Way Box...
Includes:
WHITES
Little Cricket, Gruner Veltliner, Hungary
Baccolo Bianco, Sauvignon Blend, Veneto Italy
Calusari, Pinot Grigio, Tanat Region Romania
Domaine Gayda, Flying Solo Assemblage Blanc, Brugeroilles Languedoc France
Akurra, Chardonnay (unoaked), Victoria Australia
Lago, Vinho Verde Branco, Amarante Portugal

RED
Umbrele, Merlot, Tanat Region Romania
Feudi di Santa Tresa, Miopasso Primitivo, Puglia Italy
Il Caggio, Montepulciano D'Abruzzo, Abruzzo Italy
Domaine Gayda, Flying Solo Assemblage Rouge, Brugeroilles Languedoc France
La Gran Bestia, Malbec, Mendoza Argentina
Ke Bonta, Sangiovese, Puglia Italy

Wines may vary from the picture, if a wine is unavailable that is listed in the description then a suitable replacement will be provided.
Mid Way Case is designed to offer 6 whites and 6 reds at great prices but with greater quality!