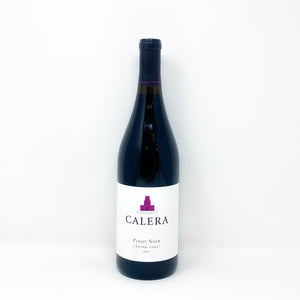 A beautiful bouquet of cranberry, boysenberry, redwood bark, and a hint of red liquorice waft from this 2017 Pinot Noir. Then an enchantingly juicy, mouthwatering palate of parfumerie my raspberry, red cherry and cassis roll smoothly into a perky sweet-tart, persistent, rose petal finish.
Tasting notes from the Wine Enthusiast
"This blend from sites across the Central Coast carries all the expert hallmarks of the brand, from ripe fruit to earthy spice. Tightly wound aromas of pomegranate, berry, soil and star anise lead into a crisp yet savory palate of raspberry and deep cherry. Pinches of dried sage and thyme linger on the finish." 93/100 Points
Producer Profile Calera
Calera's wines truly express the sense of place. Rather than follow the recommended path, Josh Jensen became a pioneer in search of the perfect spot on the globe to grow grapes. Taking his cue from the great domaines of Burgundy which have grown grapes in limestone soil for centuries, he set out in search of the perfect spot in California to create wines unique to the world but in the style of the greatest wines of France. Site selection was vital as he ventured off the grid to plant on the site of an old limekiln in the Gavilan Mountains of California. Today Calera wines still express that pioneer spirit and are revered the world over.