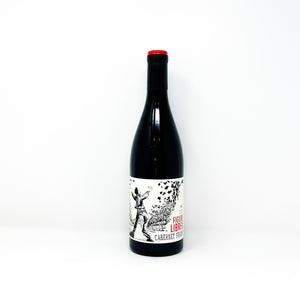 "We called it "Figure Libre" because we have chosen the freedom of creation and expression, combining the subtleness of the Loire with the bold character of the Languedoc.
Away from the rigours of the appellation, in 2004 we planted the grape varieties which we felt would be the best suited, those most able to reveal the expression and the qualities of our Brugairolles sandstone terroir. Cabernet Franc and Chenin Blanc, rarely grown in the region, originate from the Loire Valley, home of Winemaker Vincent Chansault."
Vinification process
The taste and flavours of the grapes determine the harvest date and orientate our wine making to allow the quality of the fruit to express freely in the wine - totally natural process.
Ageing
20% in new Oak, 20% in wooden vat and 60% in 1 and 2 year old Oak barrels - The wines are racked and bottled according to the phases of the moon and on fruit or root days.
Decanter, Jan. 2021 : 92/100 "A gorgeously perfumed nose here, soft touches of flowers and cherries, with an almost smoked, charred touch. This is full bodied with complex layers of red and black fruit - blackcurrants, strawberries and cherries, baking spices and stony, mineral acidity that keeps things super lively and fresh. Elegant and characterful and seriously easy to drink - one I immediately wanted a glass of."