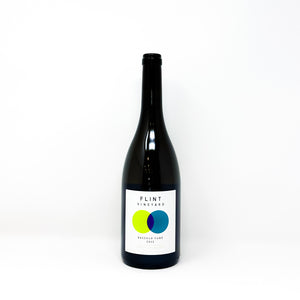 "One of the very best dry English whites around," David Williams, The Observer.
Harvested from both our partner vineyard in Hedenham and our own Flint parcels, using later press fractions to extract more tannin and flavour.
Half of the fermentation used indigenous yeasts and the other was co-inoculated with complimentary 'wild' and Saccharomyces strains.
Fermented and aged in 3rd and 4th fill oak barrels for 6 months with weekly bâtonnage on 50% of the wine. No sugar additions and minimal effective SO2.
The use of barrels in our Fumé is to encourage aromatic development and softness rather than oak flavour. Barrels can push Bacchus towards the style of its parent variety, Riesling, and the 2022 Fumé demonstrates this.
3,000 bottles made.
TASTING NOTES
Pear tart, lime cordial and almond on the nose with a soft, creamy mid-palate that is nutty and smoky on the finish.
TECHNICAL INFORMATION
Extended skin contact at the press (late press fractions held over night under nitrogen)
Fermented and aged (6 months) 100 % in neutral oak barrels (3rd and 4th fill)
Partial indigenous fermentation / partial use of complex non-Saccharomyces strains
No malolactic fermentation
No fining agents have been used so the wine is vegan friendly gluten free
Alcohol: 11 %
Residual sugar: <0.5 g/L
Titratable acidity: 7.3 g/L