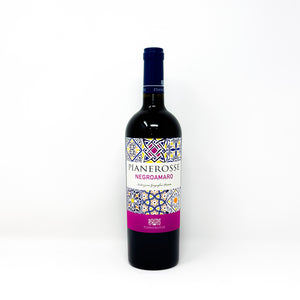 TASTING NOTE
Deep ruby red with violet tinges; pronounced aromas of ripe red fruit, currant
jam and raspberries with hints of plum and black pepper; full-bodied, well
balanced and fresh. Medium long finish, with a fruity and spicy after taste.
PRODUCER
In its fifth generation,Paolo Leo is based in the Salento wine village of
San Donaci. The story of this beautiful estate began at the turn of the
twentieth century, when Antonio Leo started to vinify the grapes grown
in the vineyards of "Masseria Monticello. The winery has enjoyed constant
investment over the years and is today a modern winery, with a capacity
of 120,000 hl and a barrel room housing 1000 French and American oak
barriques. Mainly indigenous grape varieties are grown in the 80 ha of
vineyards: Primitivo, Negroamaro, Fiano. The company is certified, BRC/IFS,ICEA,
Organic,Equalitas.
VINIFICATION
The grapes are de-stemmed and fermented at a controlled temperature of 22-24°C
for 8-10 days; fermentation with selected yeasts and malolactic fermentation
RECOMMENDATION
Seasoned pasta dishes, roast meat and mushroom dishes; cured meats and
medium-aged cheeses; risotto with vegetables, pizza.