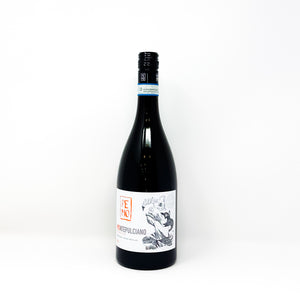 TASTING NOTE
This Montepulciano has a rich red colour, with cherry aromas on the nose. A
deeply characterful wine, it is really soft and elegant, with red berry fruits, and
a smooth, lengthy finish.
VINEYARD INFORMATION
Montepulciano has long been one of Italys most important and versatile grape
varieties.
VINIFICATION
The grapes are handpicked and carefully de-stemmed and once slowly crushed,
the wine is fermented for about 14 days at 24-25C. Frequent remontages
are carried out for optimum colour extraction, and the pips are removed from
the fermentation. After the fermentation is completed, the wine is kept in contact with
the skins for about 5-7 days. Once the wine is racked, malolactic fermentation
occurs naturally. Wine stays on fine lees for at least 150 days before being
racked and filtered.
RECOMMENDATION
A great match to tomato based pasta dishes and pizza