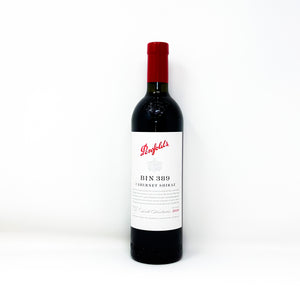 Bin 389 was often referred to as 'Baby Grange', in part because components of the wine are matured in the same barrels that held the previous vintage of Grange. First made in 1960 by the legendary Max Schubert, this was the wine that helped forge Penfolds reputation with red wine drinkers by combining the structure of cabernet sauvignon with the richness of shiraz. Exemplifying the
judicious balance of fruit and oak, Bin 389 highlights the generous mid-palate Penfolds is known for.
Producer Profile:
Since 1844, Penfolds has played a pivotal role in the evolution of winemaking with a history and heritage that profoundly reflects Australia's journey to the modern era. Penfolds collection of wines were established in a spirit of innovation and the constant and endless pursuit of quality, evidenced by the secret bottling of Grange in 1951 and the unbroken line of vintages of what is now considered Australia's most iconic red wine. It is this spirit of innovation that drives the brand's curiosity and determination to always push beyond boundaries, unrestricted by region or vineyard. Today, the Penfolds Collection continues to display the brand's distinctive and consistently recognisable 'House Style'; the ultimate expression of Penfolds time-honoured tradition of sourcing the best fruit from some of the most highly regarded winemaking regions in the world, including Napa and Bordeaux, alongside many of the most-acclaimed regions within Australia.