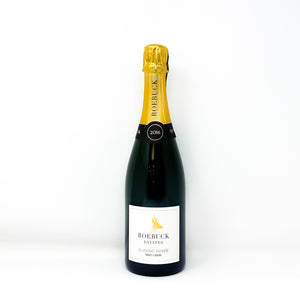 Producer Profile
Roebuck Estates adopt a single-minded approach, using only the finest quality estate-grown grapes, from exceptional vineyard sites to create award-winning wines from classic Champagne varieties.
Located close to the historic market town of Petworth in West Sussex, Roebuck Estates was established in 2013 by two Brits, Mike Smith and John Ball, whose love of wine, long-standing friendship, and belief in the potential of the English wine industry sparked several years spent searching for the perfect vineyard plots.
Viticulture
Grapes sourced from a variety of premium Sussex vineyard sites comprising of chalk, clay and sandy soils. Perfectly ripe bunches were carefully handpicked into small buckets and then gently transferred into picking crates before being transported to the winery.
Winemaking
Only the very best fruit is carefully selected and harvested by hand for this flagship wine. Partial fermentation in old Burgundian oak barrels followed by extended bottle ageing for a minimum of three years imparts depth, richness and complexity on this wine.
Oak Ageing
Time: 8 Months
Type: Old Burgundy 225l barrels
% wine oaked: 15
Tasting Note
Rich, yet pale lemon in colour. Notes of baked apples and citrus fruits are layered with a toasty richness and hint of hazelnut. Delicate bubbles linger on the palate leading to a long, beautifully balanced finish.
Awards
DWWA 2023 SILVER
Varieties:
Pinot Noir 44%
Chardonnay 42%
Pinot Meunier 14%