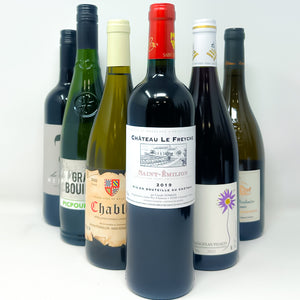 What's in the Viva La France?
Explore the delights of the Viva La France!...
Includes:
WHITE
Muscadet Sevre & Maine Sur Lie, Chateau de L'Oiseliniere de la Ramee, Loire Valley France
Domaine Fournillon, Chablis, Burgundy France
Les Grands Bouillons, Picpoul de Pinet, Languedoc, France

RED
Cave de Fleurie, Beaujolais-Villages, Beaujolais France
La Barbe Merlot , Pay's d'Oc France
Chateau Le Freyche, St Emilion, Bordeaux

Wines may vary from the picture, if a wine is unavailable that is listed in the description then a suitable replacement will be provided.
Let us take you on a journey across France and show you some well-known and lesser known appellations; some stand out producers; and some deliciously fantastical wines. The French really know their way around a grape, and we are super proud of the producers that we work with to bring you some of the best examples. You will not be disappointed in this one!